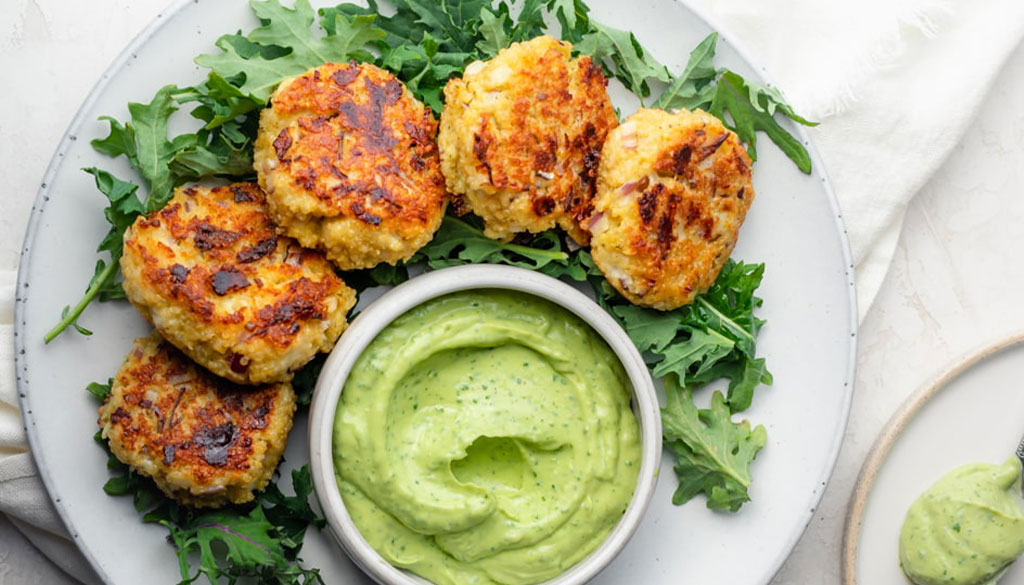 Crispy Quinoa Patties
When you're looking for ways to use leftover quinoa, try these easy tasty vegetarian quinoa patties, served with an avocado yogurt dip – perfect appetizer!
Cook Time: 10 mins
Total Time: 20 mins
Servings: 4
Ingredients
For the Patties
1 cup cooked quinoa
2 eggs beaten (or flax eggs)
Salt and pepper to taste
½ red onion finely chopped
½ cup mozzarella cheese
2 cloves garlic crushed
1 cup bread crumbs
Water as needed add moisture
1 tablespoon canola oil
For the Avocado Yogurt Dip
2 tablespoons cilantro chopped
½ cup yogurt
½ avocado extra ripe
Salt and pepper to taste
Instructions
Combine quinoa, eggs, salt and pepper in a medium bowl. Stir in onions, cheese and garlic. Add the bread crumbs, stir, and let sit for a few minutes so the crumbs can absorb some of the moisture. Feel free to add water if the mixture feels too dry. Form the mixture into 6-8 patties.
Frying Instructions: Heat the oil in a large, heavy skillet over medium-low heat. Place add quinoa on the heated pan, making sure not to overcrowd the pan and cook until the patties are golden color, about 7 – 10 per side minutes.
Baking Instructions: Place the quinoa patties on a baking sheet lined with parchment paper. Brush the oil on top of the patties. Bake in a preheated oven at 400°F for 15 minutes, until golden.
To make the avocado yogurt sauce, whisk together the cilantro, avocado and yogurt. Season with salt and pepper and serve with the cooked quinoa patties.
Notes
Storage: Store any leftovers in an airtight container. They will last up to 5 days in the fridge.
Freezing Instructions: You can also freeze the patties before or after cooking them.
To freeze them prior to cooking, lay them on a flat baking dish in the freezer for at least 4 hours. When frozen, place them in an airtight bag. Thaw in the fridge overnight and cook per instructions.
To freeze them after cooking, simply store them in an airtight bag after they've cooled. To re-heat, thaw in the fridge overnight and bake in a 350°F oven until heated through.
Substitutes: For best results, follow the recipe as is. However here are some common substitutes that would work well in this recipe.
Instead of eggs, you can use a flax eggs. For each regular egg, use 1 tablespoon ground flaxseed + 3 tablespoons water.
If you prefer not to use breadcrumbs, you can use a gluten-free flour like almond flour or oat flour, or you can also use panko breadcrumbs.
Need a Meal to Go With Your Appetizer?
Pick up any of our 5 Clo-Clo Vegan Frozen Pizzas from a SPROUTS store near you. They pair very well with an appetizer for any occasion!
Source: Feel Good Foodie