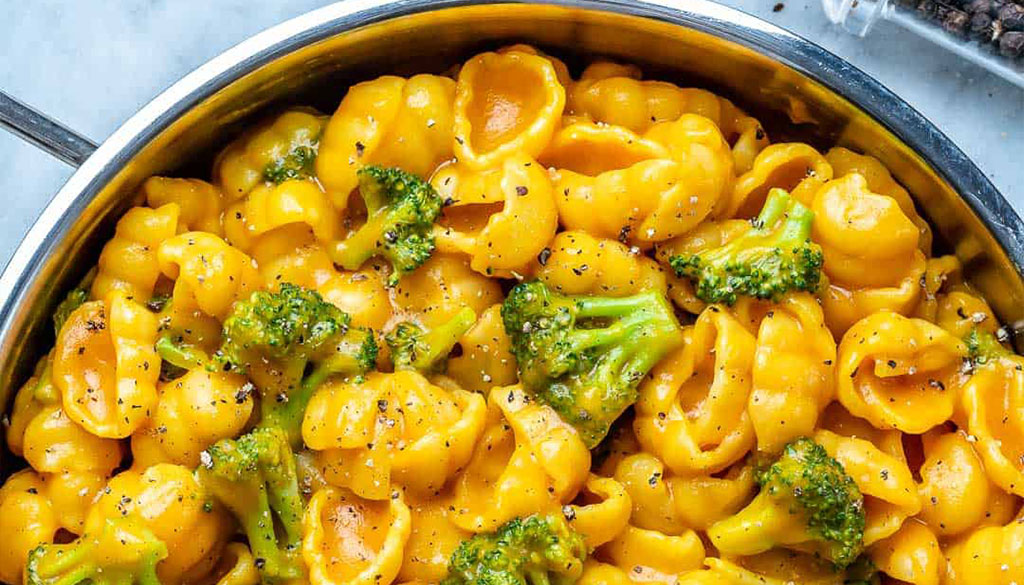 Easy Vegan Mac & Cheese
This Vegan Mac and Cheese is so easy to make! Loaded with broccoli and made with a plant-powered homemade creamy sauce. A perfect dairy-free recipe that the whole family can enjoy on a regular basis or add to your holiday dinner table.
Ingredients
1 box Whole Wheat or Gluten-free Pasta use any pasta of choice
2 Large Yukon Gold Potatoes
3 Medium Carrots
2 Cups Broccoli Florets
2 Cloves Minced Garlic
¼ Cup Nutritional Yeast
1 Tsp Apple Cider Vinegar
2 Tbsp Freshly-Squeezed Lemon Juice
1 Tsp Dijon Mustard
½ Tsp Paprika
⅛ Tsp Turmeric Powder
½ Tsp Kosher Salt
¼ Tsp Ground Pepper
Instructions
Wash and scrub the potatoes and carrots thoroughly under cold running water to remove any dirt. Pat the excess moisture with a paper towel.
Using a potato peeler, peel the potatoes and carrots skin off and cut into large bite-sized chunks.
Now add chopped potatoes and carrots to a large pot then pour over enough water to cover by 1″ inch. Season with a generous pinch of salt and bring the water to a boil, over medium-high heat.
Boil for 15 minutes or until potatoes and carrots are easily pierced with a paring knife.
Meanwhile, use a steamer basket to steam the broccoli for 3-4 minutes, or just until fork-tender.
Once the veggies are done, remove from the heat and place in a colander to drain, reserving about 1 cup of water from the veggies. Allow the veggies to cool slightly.
Cook pasta according to the package instructions.
In a small mixing bowl, combine and whisk garlic, apple cider vinegar, lemon juice, mustard, paprika, turmeric, and salt until well combined and set aside.
Next, place the boiled potatoes, carrots, nutritional yeast, and 1/2 cup of the reserved liquid to a blender.
Pour in the prepared garlic and vinegar mixture and blend until smooth and creamy, about 2-3 minutes. If needed, add more liquid to reach your desired consistency.
Add cooked pasta to a large serving bowl together with steamed broccoli, then pour the sauce on top.
Mix well until pasta is evenly coated into super the creamy delicious sauce!
Serve warm and enjoy!
Notes
For storage:
This recipe can be stored in the fridge for up to 5-7 days. Place in an airtight container. You can also store the leftover sauce in the refrigerator for up to a week.
For freezing, place your leftover mac and cheese in an airtight container or freezer bag for up to 3 months.
Nutrition
6 servings: Calories: 327kcal | Carbohydrates: 70g | Protein: 15g | Fat: 1g | Saturated Fat: 1g | Sodium: 246mg | Potassium: 625mg | Fiber: 4g | Sugar: 2g | Vitamin A: 5366IU | Vitamin C: 37mg | Calcium: 71mg | Iron: 5mg
Make it a Pizza with Clo-Clo's Vegan Pizza Crust
Our pizza crust is completely vegan friendly and is perfect for a build your own pizza at home. Try this Easy Vegan Mac & Cheese recipe with Clo-Clo's Vegan Pizza Crusts and let us know what you think! Find a SPROUTS store near you to purchase.
Source: Health Fitness Meals