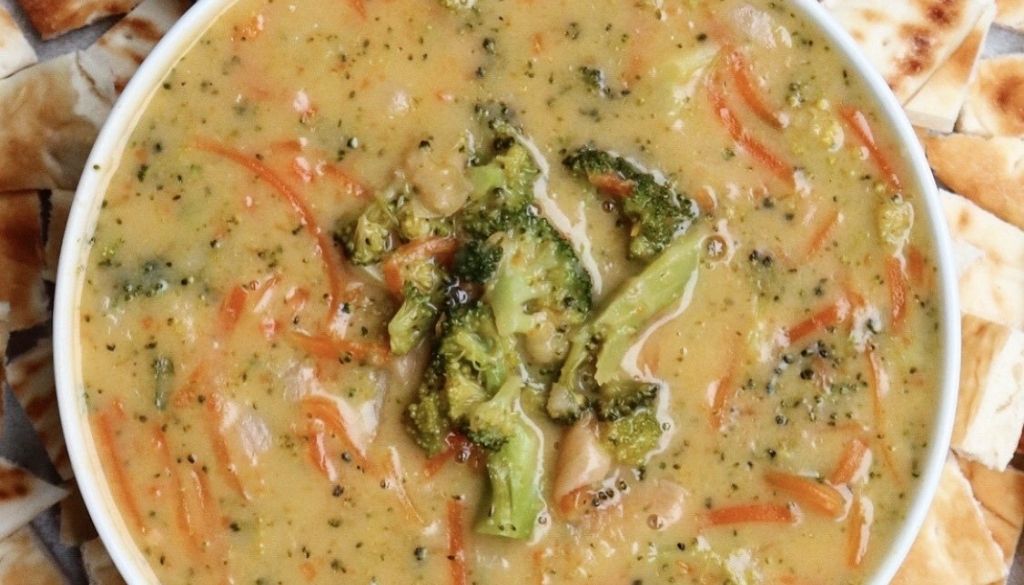 Panera's Vegan Broccoli Cheddar Soup
If you grew up eating Panera's rich, cheesy broccoli cheddar soup, you're going to love this vegan option! It's made with plant-based ingredients and is much healthier than the original. With how easy it is to throw together, you'll wonder why you haven't found this recipe sooner. And the best part? You don't even need to leave the house to get it!
Prep Time: 10 mins
Cook Time: 20 mins
Total Time: 30 mins
Ingredients:
1 cup white onions chopped
1 clove garlic finely diced
1/4 cup vegan butter
1/2 cup all purpose flour
3 cups vegetable broth
4 cups rice milk plain, unsweetened
3 heaping cups broccoli finely chopped
1 1/2 heaping cups julienned carrots
1 cup vegan cheddar cheese
Salt & pepper to taste
Instructions:
Melt the butter in a large pot on medium heat.
Stir in the onions & garlic. Cook for 5-7 minutes.
Add the flour and mix well, until the flour is fully incorporated, creating a roux.
Whisk in the vegetable broth and rice milk until roux is completely incorporated.
Bring mixture to a boil.
Bring soup back to medium heat and add broccoli & carrots. Cook for 10 minutes.
Add vegan cheddar cheese and stir until cheese is completely melted.
Remove about 1/4 of the soup from the pot and place it in a high-speed blender. Blend until creamy. Add back to the pot and stir well.
Add salt and pepper to taste and enjoy!
Bonus: add croutons or bread to the soup when serving!
Need a Meal For Dinner?
After making this yummy, vegan broccoli cheddar soup for lunch, you may be wondering what vegan meal you should make for dinner. Try any of our five delicious, Clo-Clo Vegan frozen pizzas for a healthy meal for you and the family. Available at a SPROUTS store near you.
Source: Six Vegan Sisters