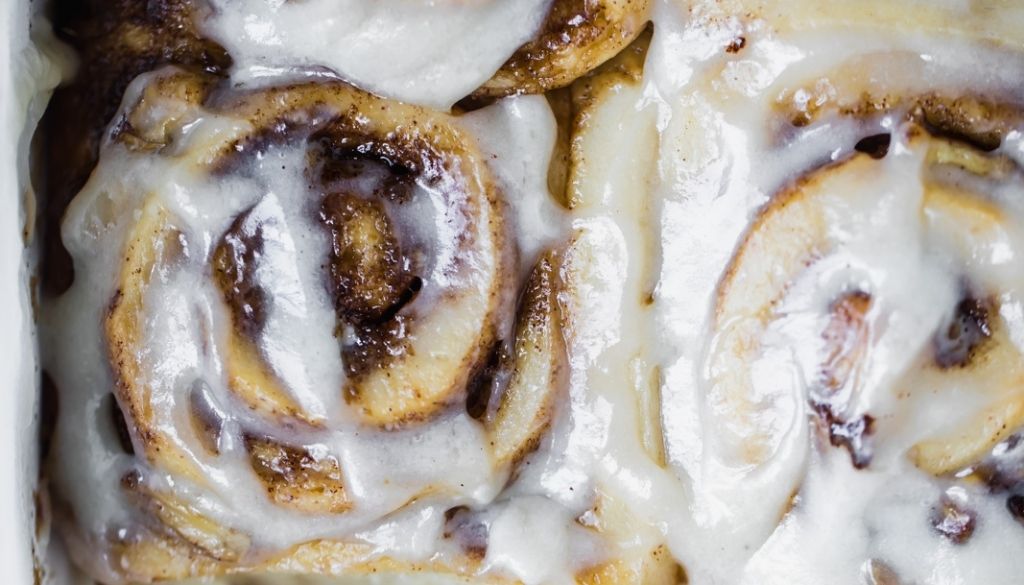 Vegan Banana Bread Cinnamon Rolls
Meet the world's best vegan banana bread cinnamon rolls! These homemade vegan cinnamon rolls are like a cross between a cinnamon roll and banana bread. They're incredibly fluffy, soft, and make a wonderful brunch or treat.
Ingredients
Dough:

¾ cup unsweetened vanilla almond milk (or milk of choice), warmed to 110 degrees F
¼ cup granulated sugar
2 ¼ teaspoons active yeast (1/4-ounce package yeast)
¾ cup mashed ripe banana (from about 2 medium bananas, but make sure you measure)
¼ cup melted vegan butter
4 cups bread flour
3/4 teaspoon salt

Filling:

2/3 cup dark brown sugar
1 1/2 tablespoons ground cinnamon
¼ cup vegan butter, softened
1 medium banana, thinly sliced
1/2 cup chopped walnuts (optional)

Vegan cream cheese frosting*:

2 oz vegan cream cheese, softened
2 tablespoons vegan butter, softened
1/3 cup powdered sugar
½ teaspoon vanilla extract
1 teaspoon unsweetened vanilla almond milk (or milk of choice), to thin frosting for drizzling
Instructions
Warm milk in the microwave for 45 seconds or 110 degrees F. Transfer warm milk and sugar to a bowl and sprinkle yeast on top. Stir in ¾ cup mashed banana (making sure you measured!) and melted vegan butter. Mix until just combined. Next stir in flour and salt with a wooden spoon until a dough begins to form.
Knead dough by hand or in an electric mixer on low speed for 8-10 minutes. Dough should form into a nice ball and be slightly sticky.
Transfer dough ball to a large bowl greased with olive oil or nonstick cooking spray, then cover with plastic wrap and a warm towel. Allow dough to rise for 1 hour or until doubled in size. This may more or less time depending the humidity and temperature in your home.
After dough has doubled in size, transfer dough to a well-floured surface and roll out into a 14×16 inch rectangle. Spread softened butter over dough, leaving a ¼ inch margin at the far side of the dough.
In a small bowl, mix together brown sugar and cinnamon. Use your hands to sprinkle mixture over the buttered dough, then gently rub the sugar into the butter. Add banana slices and walnuts on top.
Tightly roll dough up the dough, starting from the 14-inch side (the smaller side) and place seam side down making sure to seal the edges of the dough as best you can. You will probably need to cut off about an inch off the ends of the dough as the ends won't be as full of cinnamon sugar as we'd want it to be. Then cut into 1 inch sections with a serrated knife or use floss. You should get 12 rolls.
Place banana cinnamon rolls in a greased 9×11 inch baking pan. Cover with plastic wrap and a warm towel and let rise again while you preheat your oven.
Preheat oven to 350 degrees F. Remove plastic wrap and towel and bake the banana cinnamon rolls for 25-35 minutes or until just slightly golden brown on the edges. You want to under bake them a little so they stay soft in the middle, that's why we want them just slightly golden brown. Allow them to cool for a 5-10 minutes before frosting. Makes 12 cinnamon rolls.
To make the frosting: In the bowl of an electric mixer or in a medium bowl, combine cream cheese, butter, powdered sugar and vanilla extract. Beat until smooth and fluffy. Add 1 teaspoon of almond milk if you'd like a thinner glaze. Spread or drizzle over cinnamon rolls and serve immediately.
Recipe Notes
If you like a lot of frosting, double it!
*Feel free to use regular butter and cream cheese if you are not vegan or dairy free.
To make overnight cinnamon rolls: After rolling your banana bread cinnamon rolls up, cut them as directed, arrange in a pan lined with parchment paper, cover them with plastic wrap then place them in the fridge overnight. When you are ready to bake, bring the vegan cinnamon rolls to room temperature and let them rise for 45 minutes to 1 hour before baking as directed.
Looking For More Vegan Recipes?
Clo-Clo Vegan Foods has a full collection of vegan recipes in our blog, all ready for you to try right at home. If you're feeling creative, pick up Clo-Clo Vegan Crusts from a SPROUTS store near you or online at Amazon.com and go crazy with your own breakfast creation. Make sure to share on Facebook, we want to see!
Source: Ambitious Kitchen