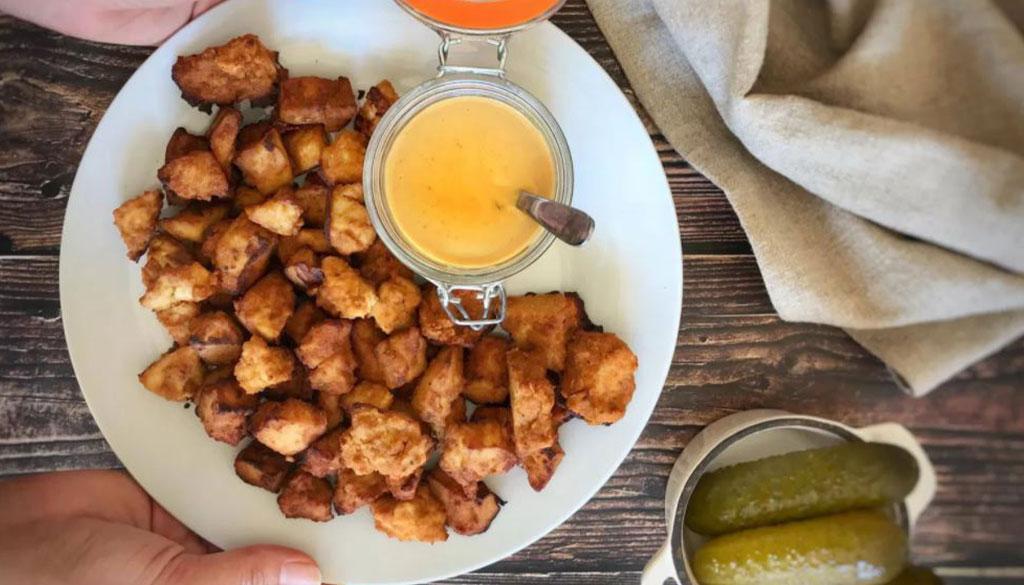 Vegan Chick-fil-A style Nuggets
If you've been searching for an easy and delicious vegan Chick-fil-A style nugget recipe, then you're in luck. These nuggets combine agave sweetness and briny pickle juice for a unique yet familiar flavor. Plus everything is oil-free! Perfect for dipping in a vegan honey mustard dipping sauce.
Prep time: 5 mins
Cook Time: 35 Mins
Servings: 4
Ingredients
14 oz or 400 g of extra firm tofu
1/2 tsp soy sauce
1/2 cup dill pickle juice
2 tbsp agave syrup
1 tbsp vegetable broth powder or poultry seasoning
1 tsp sweet paprika
1 tsp garlic powder
1 tsp onion powder
3/4 cup nutritional yeast
Instructions
Optional Freezing/Thawing Technique
Open the tofu to drain the water (optional) and place in a freezer bag or container. Freeze at least 4 hours or overnight. Defrost in the refrigerator about 6 hours. (Place in the freezer the night before and take out on the morning you want to make the nuggets). This step is optional but will give the tofu a more "chicken-like" texture.
Preparing and Cooking
Preheat oven to 425°F or 220°C.
Mix all the paste ingredients in a large bowl. The paste should be thick enough to coat the tofu. (If your paste doesn't seem thick enough, add more nutritional yeast until you reach the right consistency).
Lightly fold the chunks into the paste, being careful not to break the tofu too much.
Using tongs or a slotted spoon, transfer the tofu onto a lined sheet pan and place in the oven. Try to avoid getting excess liquid on the baking sheet as it will cause sticking. Cook for 30 to 35 minutes or until the tofu is nicely browned on the outside.
Serve with Vegan Honey Mustard Dipping Sauce (included below) or your favorite sauce.
Notes
Be sure to use parchment paper as the liner. Aluminum foil could cause the nuggets to burn!
The freezing/thawing method is optional. If you forget or don't have time, this recipe will still be delicious.
Be careful not to get extra liquid on the baking sheet, as it will stick and can burn. Plus, you want all those delicious flavors on your nuggets!
If you put the tofu nuggets into the paste and find that it's still too thin, just add a little more nutritional yeast and carefully fold into the nuggets and paste.
Pressing: If you use the freeze/thaw method, you will need to press the tofu to remove excess water. After the tofu is defrosted, remove tofu from packaging and wrap in a paper towel or clean kitchen towel. Place wrapped tofu on counter and press with the heel of your hand, applying enough pressure to release some of the water (not so hard that you crush the tofu). I find that simply squeezing out the water is sufficient for this recipe.
Another pressing method: wrap the tofu in a paper towel and place it on a plate. Stack heavy plates on top of the tofu and let sit for 30 minutes.
If you aren't using extra-firm tofu, you will need to press to remove excess water. See the instructions above.
Do *NOT* use silken tofu for this recipe.
If you want to reduce the sodium, you can use light soy sauce or halve the soy sauce and replace the difference with water.
Want to use an air fryer? Try 20 minutes at 400°F or 200°C.
Don't Forget the Dipping Sauce!
This vegan honey mustard dipping sauce is tangy, sweet, and easy to prepare. Agave syrup replaces the honey. Made with a silken tofu vegan aioli, it's oil-free.
Ingredients
1/2 cup vegan mayo or aioli
2 1/2 tbsp yellow or brown mustard (or dijon if using store-bought mayo)
2 1/2 tbsp agave syrup
2 tbsp barbeque sauce
1 tsp lemon juice (optional)
Instructions
Make the oil-free vegan aioli following the instructions linked below (5 minutes) or use store-bought vegan mayo.
Add the mayo and all of the other ingredients to a small bowl and stir to combine. Serve immediately as a dipping sauce or salad dressing. Store up to 5 days in the refrigerator in an airtight container.
We Love Vegan Recipes!
At Clo-Clo, we LOVE turning regular meals into incredible, healthy vegan meals; just check out any of our vegan frozen pizzas. Some still can't believe that the cheese isn't actually cheese! Let us know in the comments on how this recipe turned out for you.
Source: No Sweat Vegan