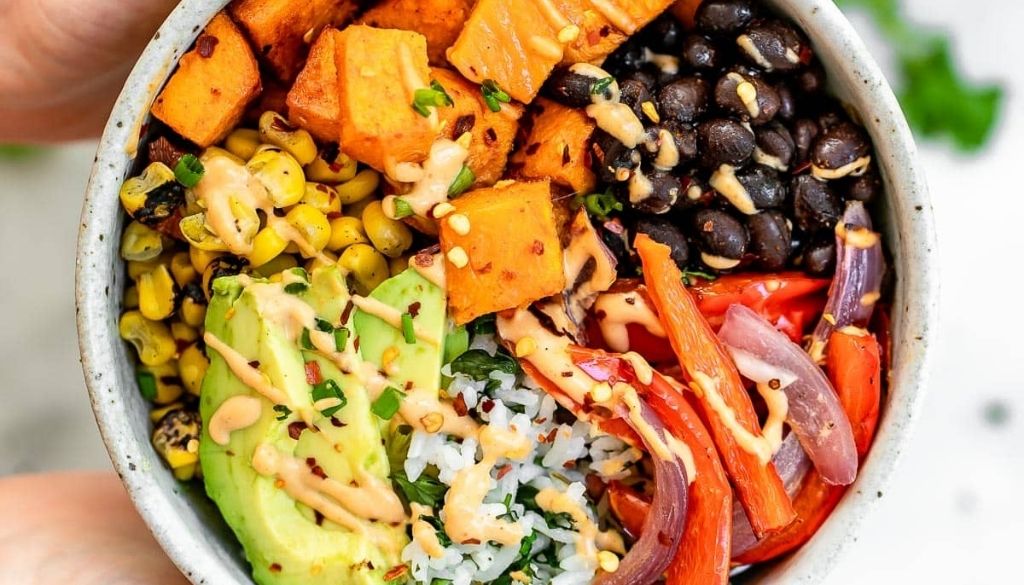 Vegan Sweet Potato & Black Bean Burrito Bowl
This sweet potato black bean vegan burrito bowl is the ultimate dinner for a flavorful weeknight meal and is perfect for meal prep! It's loaded with flavor, naturally gluten free and made ultra delicious with a spicy tahini dressing.
Prep Time: 10 minutes | Cook Time: 30 minutes | Total Time: 40 minutes | Servings: 4 servings
Ingredients
Burrito Bowl:
1/2 batch cilantro lime rice (or Mexican cauliflower rice)
1 large sweet potato (or 2 smaller)
1 tsp paprika
1/2 tsp garlic powder
2 tbsp olive oil (divided)
1/2 tsp sea salt
1 can black beans
1 tsp Mexican chili powder (can sub for regular chili powder)
2 red bell peppers
1 red onion
1 cup cooked corn (I like fire-roasted)
1 avocado
Dressing:
1/2 cup runny tahini (I like Soom Foods or the 365 brand)
1/4 cup of water (see notes)
1-2 tbsp hot sauce (depending on brand and spice preference)
1/2 tsp garlic powder
Juice from 1/2 lime or lemon
Salt to taste
OR 1 batch cashew queso
Instructions
Preheat the oven to 400 degrees Fahrenheit.
Peel the sweet potato and chop into large chunks.
Add to a bowl and toss with 1 tbsp of olive oil, paprika, garlic, and salt.
Add to a baking tray lined with parchment paper.
Slice the onion and peppers into thin strips and add to the baking tray.
Drizzle on top the final tbsp of olive oil to the onion and pepper.
Bake for 30 minutes or until the potatoes are easily pierced with a fork.
During the final 5 minutes, drain the black beans but do not rinse.
Add to a pan with 1 tsp chili powder, salt to taste, and saute to make them warm.
Remove the veggies from the oven and assemble your bowls with a bed of rice.
Top with the roasted veggies, black beans, corn, avocado.
Whisk all of the ingredients for the dressing together and drizzle on top of the bowls.
Looking For More Vegan Recipes?
Clo-Clo Vegan Foods has a full collection of vegan recipes in our blog, all ready for you to try right at home. If you're not looking to make a meal, why not grab a Clo-Clo Vegan Frozen Pizza for a quick and easy meal that the entire family will love. Available at a SPROUTS store near you or online at Amazon.com.
Source: Eat With Clarity