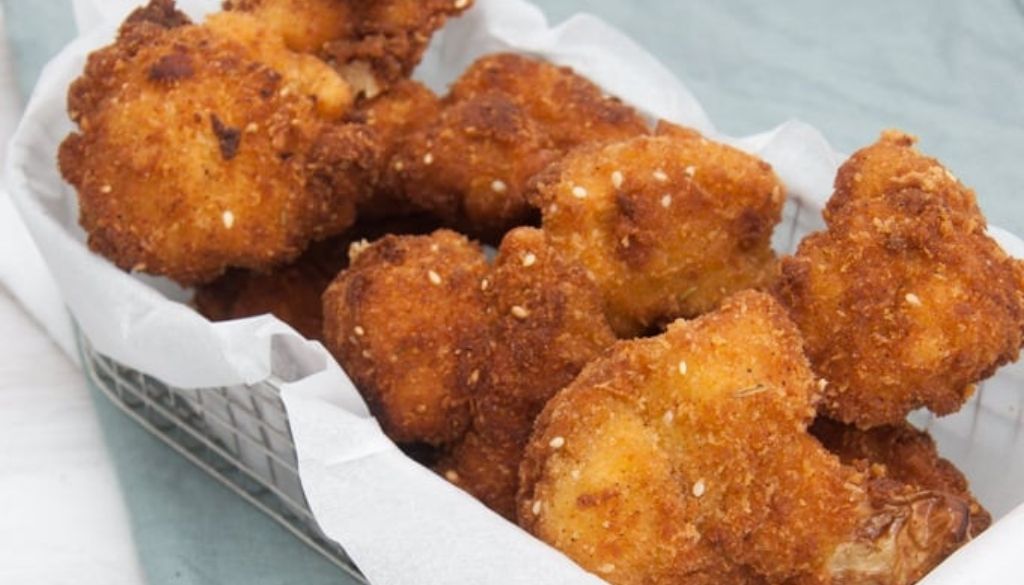 Breaded & Fried Cauliflower Nuggets
These Breaded & Fried Cauliflower Nuggets are the perfect game day snack! Even when you're not into sports, you'll love these crispy veggie nuggets. It's almost unbelievable that these are made with cauliflower! Dip them into a sauce of your choice and enjoy!
Ingredients
1 head cauliflower
Frying oil (strain leftover-oil and reuse it!)
for the batter, you will need:

1 cup all-purpose flour,
1 cup water,
1/4 teaspoons salt,
1/4 teaspoons paprika powder,
and 1 pinch turmeric powder

for the breading, you'll need:

1 cup fine breadcrumbs,
1/2 cup panko flakes,
2 tablespoons all-purpose flour (to make sure the cauliflower florets are coated completely),
2 tablespoons white sesame seeds,
1 1/2 teaspoons paprika powder,
1 1/2 teaspoons salt,
and 1 teaspoon dried rosemary
If you don't have panko flakes at home, no worries, just use more fine breadcrumbs! If you're missing some of the spices, feel free to experiment with what you have!
Instructions
Break the cauliflower in florets and wash them.
For the batter: In a bowl, combine the flour, salt, paprika powder, turmeric powder. Add water and whisk until it's a smooth batter.*
For the Breading: Combine all the ingredients listed above for the breading in a bowl.
Heat the frying oil in a pot.** Make sure you don't fill the pot more than half the height of the pot to prevent oil from spilling over.
Then take one cauliflower floret at the stem, dip it in the batter, then in the breading (make sure it's coated well), then carefully lower it into the oil. Work in batches (4-8 nuggets depending on the size of your pot). Let them fry for 8 minutes until golden brown.
Transfer the cauliflower nuggets onto a paper towel to remove excess oil. Repeat until you've used up all the cauliflower florets. They are absolutely delicious dipped in BBQ sauce or sweet & sour sauce!
Notes
You can adjust the consistency of the batter by adding more flour if it's too thin and more water if it's too thick. Ideally, it should be between a crepe and a pancake batter. Use an air-fryer if you have one!
Nutrition
Calories: 443kcal | Carbohydrates: 60g | Protein: 12g | Fat: 18g | Saturated Fat: 12g | Sodium: 1318mg | Potassium: 567mg | Fiber: 6g | Sugar: 5g | Vitamin A: 431IU | Vitamin C: 69mg | Calcium: 138mg | Iron: 5mg
Looking for a Meal to Go With Your Snack?
Clo-Clo Vegan Foods offers a wide variety of vegan frozen pizzas. Try them out and let us know what you think! Available at a SPROUTS store near you.
Source: Elephantastic Vegan