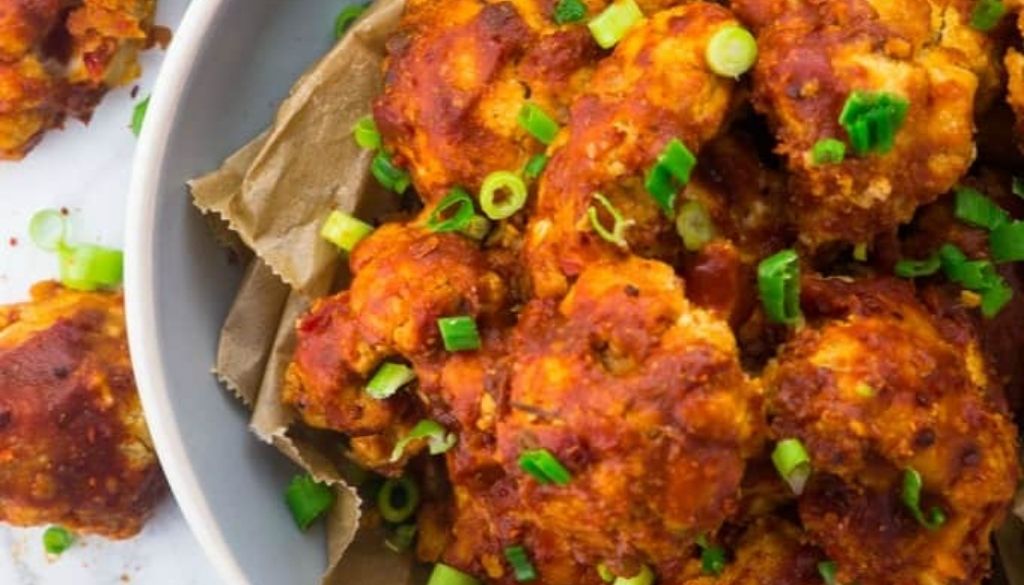 Cauliflower Hot Wings (Vegan & Gluten-Free)
These vegan cauliflower hot wings with vegan aioli are the perfect comfort food! They're so tangy, spicy, and incredibly comforting. And they're also a lot healthier than chicken wings! They're always a real crowd-pleaser!
If you haven't tried cauliflower wings yet, you should really give them a try! It's incredible what you can make with cauliflower. It's such a versatile vegetable!
Prep Time: 10 mins
Cook Time: 50 mins
Total Time: 1 hr
Ingredients
1 head of Cauliflower
3/4 cup All-Purpose Flour (or Chickpea Flour for a gluten-free version)
3/4 cup Unsweetened Almond or Soy Milk
1/4 cup Water
2 teaspoons Garlic Powder
1 1/2 teaspoons Paprika Powder
Salt
Black Pepper
3/4 cup Panko Breadcrumbs (omit for a gluten-free version)
1 cup Spicy BBQ Sauce
1 teaspoon Sriracha Sauce (optional)
2 Green Onions, cut into rings
Instructions
Heat the oven to 350 °F.
Carefully cut the cauliflower into bite-sized florets.
In a large bowl, combine the all-purpose flour, the plant-based milk, the water, the garlic power, the paprika powder, the salt, and the black pepper. Stir until well combined. For a gluten-free version substitute the all-purpose flour with chickpea flour (also omit the water if using chickpea flour).
Dip the florets into the batter, so they're completely coated.
Roll them in the panko breadcrumbs. Omit this step for a gluten-free version. However, they're way crispier with the panko breadcrumb coating.
Line a baking sheet with parchment paper and lay the cauliflower florets on the baking sheet. Don't put them on top of each other. Bake for 25 minutes at 350 °F.
Transfer the cooked cauliflower wings to a bowl. Combine the BBQ sauce with a teaspoon sriracha sauce and pour it over the baked cauliflower wings. Evenly coat them from all sides by stirring them a few times.
Put the coated hot wings back on a baking sheet lined with parchment paper. Bake again for 20 minutes at 350 °F.
Serve immediately and sprinkle with the green onions and serve with vegan aioli or vegan ranch sauce. Enjoy!
Looking For More Vegan Recipes?
Clo-Clo Vegan Foods has a full collection of vegan recipes in our blog, all ready for you to try right at home. If you're not looking to make a meal, why not grab a Clo-Clo Vegan Frozen Pizza for a quick and easy meal that the entire family will love. Available at a SPROUTS store near you or online at Amazon.com.
Source: Vegan Heaven