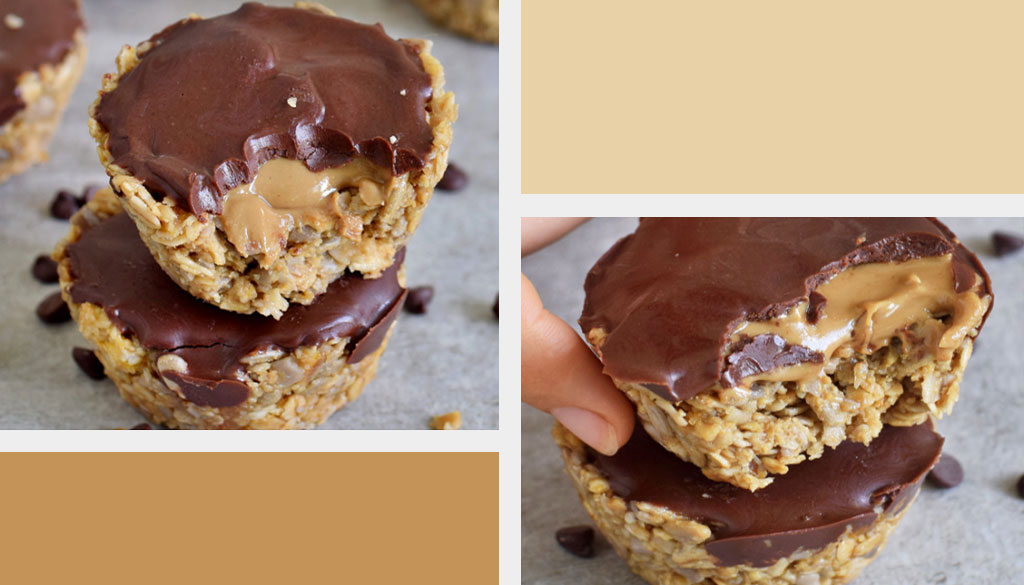 Vegan Breakfast Granola Cups
These vegan breakfast granola cups only need 6 ingredients, making them super simple to create in only a couple of steps. These cups are ideal as a breakfast, dessert, or snack! This recipe is also nut-free and gluten-free!
Prep TIme: 10 Mins
Resting TIme: 1 Hour
Servings: 8
Ingredients
For the Granola Cups
2 heaped tbsp sunflower-seed-butter
1 ½ cups granola
2 tbsp agave-syrup or maple-syrup
½ cup sunflower-seeds chopped
pinch of salt
For the Filling
¼ cup sunflower seed butter melted
For the Topping
½ cup dairy-free chocolate-chips or dark-chocolate chopped
Instructions
Mix all ingredients to the granola-cups at a mixing-bowl and blend with a spoon or your hands. The mix should stick together when you press it between your palms. When it is not so sticky add a bit more liquid sweetener.
Grease a silicone mould or cupcake-pan. With the back of a tablespoon, press the mixture firmly to the cupcake-pan and create a dent in the center of every cup.
Place a heaped teaspoon of sunflower-seed-butter to the middle of every granola-cup. Freeze till firm for 60minutes.
Melt dairy-free chocolate-chips in a water tub (just set the chocolate chips in a small bowl and put it over hot-water). It's possible to hasten the melting process by incorporating 1-2 teaspoon of coconut-oil.
When the chocolate is melted pour it on top of the sunflower-seed-butter of every granola-cup. It'll harden quickly as the sunflower seed butter is chilly.
Store in the refrigerator. You could even freeze these breakfast granola-cups in zip-lock-bags.
Notes
You can use nuts of choice Rather than sunflower-seeds
You can use any nut-butter choice Rather than sunflower-seed-butter
Looking for More Vegan Recipes?
Clo-Clo Vegan Foods has a full collection of vegan recipes in our blog, all ready for you to try right at home. If you're feeling creative, pick up Clo-Clo Vegan Crusts from a SPROUTS store near you and go crazy with your own breakfast creation. Make sure to share on Facebook, we want to see!
Source: Counts of the Nether Word