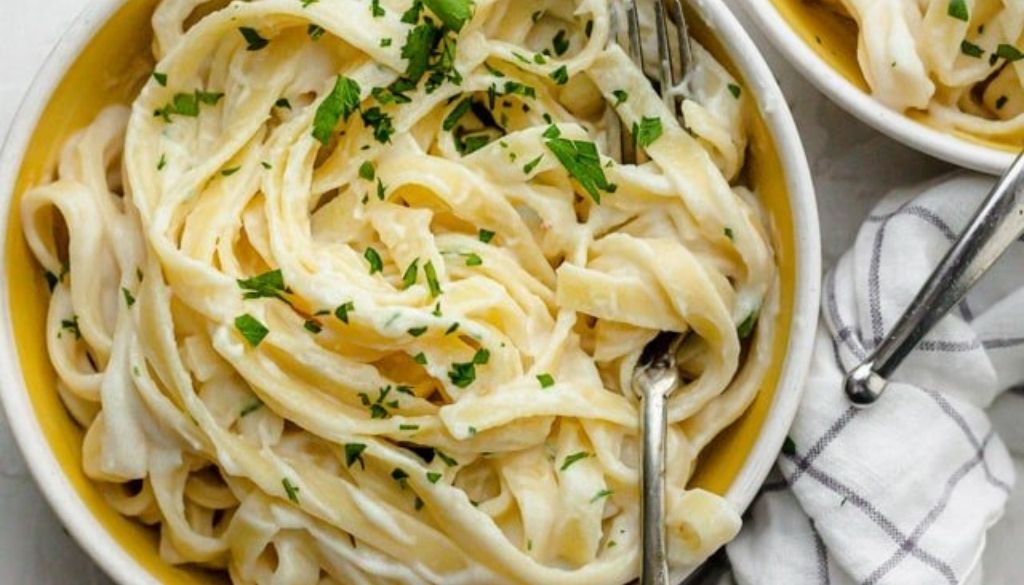 Vegan Cauliflower Fettucine Alfredo
Cauliflower Alfredo sauce is a creamy vegan, gluten-free, nut-free homemade Alfredo sauce with less fat & less calories as compared with the original recipe.
Yields: 6 servings | Prep Time: 5 mins | Cook Time: 13 mins | Total Time: 18 mins
Ingredients
5 cups cauliflower florets
6 large cloves garlic, minced
2 tbsp olive oil
½ cup plant-based milk or vegetable broth
1 tsp salt
½ tsp pepper
1 lb fettuccine or other pasta of choice.
Instructions
Bring a large pot of boiling water to a boil. Add the cauliflower and cook, covered, for 8-10 minutes or until cauliflower is fork-tender. Reserve 1 cup of the boiling water.
Heat the olive oil in a large skillet over medium heat, sauté the minced garlic until soft and fragrant, but not browned, about 1-2 minutes.
Use a slotted spoon to transfer the cooked cauliflower to a blender. Add the sautéed garlic, reserved 1 cup cooking liquid, milk, salt, and pepper. Cover the vent in your blender lid with a thin kitchen towel to allow venting and puree until the sauce is smooth and creamy, about 1 minute. If the sauce starts to look dry, add a few drops of water, milk, or olive oil.
Serve with cooked fettuccine.
Looking For More Vegan Recipes?
Clo-Clo Vegan Foods has a full collection of vegan recipes in our blog, all ready for you to try right at home. If you're not looking to make a meal, why not grab a Clo-Clo Vegan Frozen Pizza for a quick and easy meal that the entire family will love. Available at a SPROUTS store near you or online at Amazon.com.
Source: Half Planet Preserve