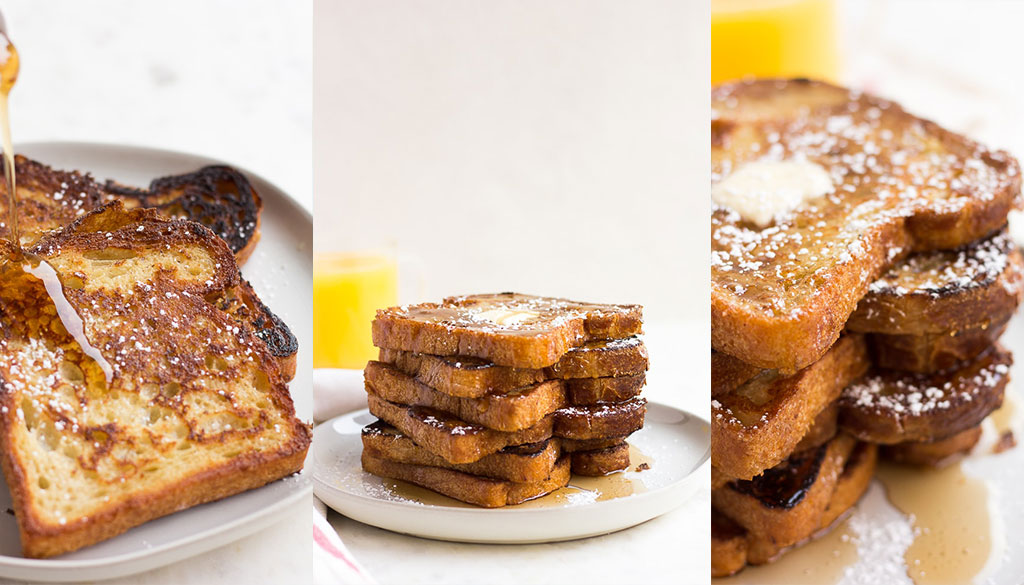 Vegan French Toast
This recipe takes only 10 minutes using everyday ingredients. You won't miss the eggs at all in this delicious weekend morning breakfast. A secret ingredient makes these French toast incredibly crisp, thick, and perfect!
Ingredients
1 cup unsweetened soy milk (or other non-dairy milk)
1/4 cup cornstarch
1 teaspoon ground flaxseeds
1/2 teaspoon baking powder
1 teaspoon ground cinnamon
2 teaspoons pure maple syrup
1 teaspoon vanilla
6-8 slices thick-sliced quality bread, such as ciabatta or french
2-3 tablespoons vegan butter or coconut oil for frying
For serving: maple syrup, powdered sugar, or fresh fruit
Instructions
In a shallow bowl, wide enough to hold a piece of bread, whisk together the soy milk, cornstarch, ground flaxseeds, baking powder, cinnamon, maple syrup, and vanilla.
Add a little bit of vegan butter/coconut oil to a pan over medium-high heat and melt. Whisk the batter again right before dipping bread, as the cornstarch will settle to the bottom of the bowl.
Dip each side of the bread in the batter and let soak for about 10 seconds, then add the bread to the pan and cook for 2-3 minutes on each side, until golden brown. Add more vegan butter/oil to the pan as needed in between pieces of bread.
Serve with maple syrup, powdered sugar, and fresh fruit, if desired.
Notes
May use any kind of non-dairy milk, such as soy, coconut, almond, cashew, or oat milk.
For the gluten-free vegan french toast, use gluten-free bread.
This recipe does not freeze well and is best served fresh.
Nutrition
serving: 1serving, calories: 404kcal, carbohydrates: 69g, protein: 12g, fat: 8g, saturated fat: 2g, sodium: 648mg, potassium: 165mg, fiber: 2g, sugar: 3g, vitamin a: 524iu, calcium: 141mg, iron: 1mg
Breakfast Doesn't Have to Stop Here
Try using our vegan pizza crusts to create a delicious vegan breakfast for fun weekend mornings with the family. Find a SPROUTS store near you to purchase.
Source: Nora Cooks