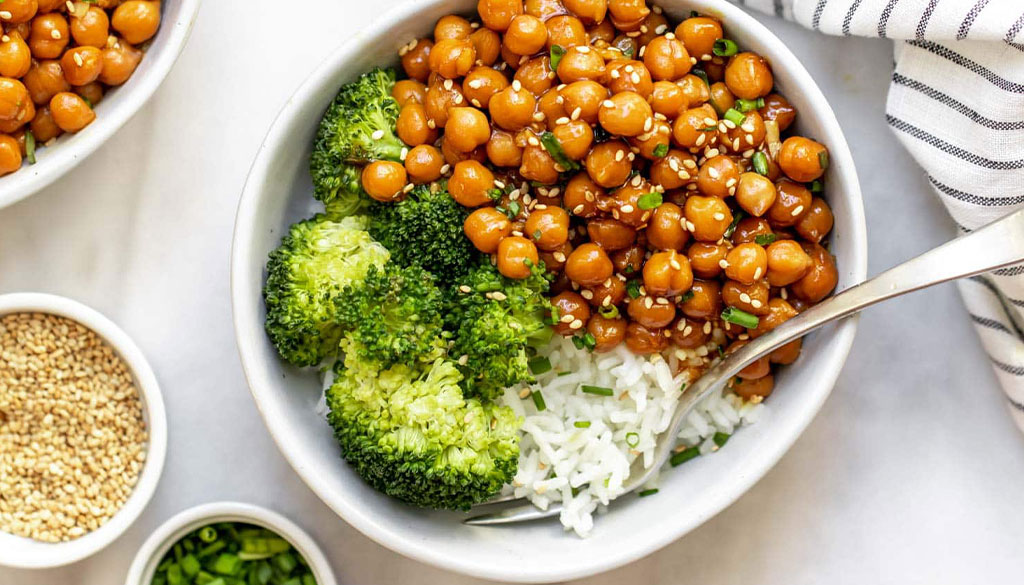 Vegan Sticky Sesame Chickpea
Easy, flavorful, and packed with plant protein, these sesame chickpeas are made into a vegan chickpea recipe the whole family will love. They're ready in just 15 minutes, making them perfect for adding to your weekly meal preps.
Prep Time: 5 Mins
Cook Time: 10 Mins
Servings: 4
Ingredients
2 cans chickpeas
3-4 large cloves garlic
1 tbsp avocado oil or olive oil
1.5 tbsp toasted sesame oil
1/3 cup low sodium tamari or soy sauce
3 tbsp maple syrup
2 tsp rice vinegar
1/2 tsp ground ginger or 2 tsp fresh grated ginger
1 tbsp arrowroot powder
4 tbsp low sodium vegetable broth water (divided)
Instructions
Drain and rinse the chickpeas and set aside.
Mince the garlic and add to a sauté pan with the avocado or olive oil. I suggest using a garlic press so it's very finely minced and you don't end up with any large pieces in the sauce.
Sauté for a few minutes or until the garlic is very fragrant.
In a small bowl combine the arrowroot powder and 2 tbsp of the vegetable broth and mix until no clumps remain. Set aside.
To the sauté pan with the garlic, add in the low sodium soy sauce, sesame oil, maple syrup, rice vinegar, ginger, and the additional 2 tbsp of vegetable broth. Whisk together.
Add in the arrowroot mixture and stir.
When bubbles start to form, add in the chickpeas and stir until they are well coated.
Cook on low heat until the sauce becomes thick and sticky, about 5 minutes. stirring occasionally.
Remove from the heat and let sit to allow the chickpeas to absorb all of the flavors.
Serve with steamed broccoli, quinoa, or rice and enjoy!
Serving: 1bowl | Calories: 321kcal | Carbohydrates: 49g | Protein: 11.5g | Fat: 9.6g | Fiber: 10.5g | Sugar: 9g
Looking for More Vegan Recipes?
Clo-Clo Vegan Foods has a full collection of vegan recipes in our blog, all ready for you to try right at home. If you're not looking to make a meal, why not grab a Clo-Clo Vegan Frozen Pizza for a quick and easy meal that the entire family will love. Available at a SPROUTS store near you.
Source: Eat with Clarity